Greeting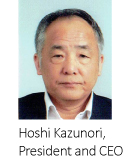 Our company was established in 1962 and has been growing, mainly due to the design and construction of internal and external lines.
We are working on the development of a new field of business in communications and environment, which based upon our market research is in high demand right now.
Since currently "Global warming prevention" is thought important and response for it is urgent, we are trying to expand the fields of "energy conservation" and "environment",based on "all electrification" as a pillar, much more.
We will be committed to be polite and contribute to society with sincerity and service.
Quality policy
We do design and construction of electrical work and other services that conforms to the needs of customers and we aim to provide high quality products and services that exceed the expectations of customers. Also we keep trying to make our construction, products and services better in order to increase customer's trust.
Company information
Company Name
Hoshi Densetsu Co.,Ltd
Established
January,1962
Capital
20,000,000
President
Kazunori Hoshi
Head office
38-1 Yakushidou Kamiishii Hanawa-machi
Higashi shirakawa-gun Fukushima JAPAN
Business office
3-10 Gyouninzuka Uwadai Tanagura-machi
Higashi shirakawa-gun Fukushima JAPAN
Product guide
・Electrical Design, Construction, and Contracting
・Sales and Construction of All-electric system
・Design and Construction of Firefighting Facility
・Sales of Electrical Appliances
・Telecommunications Construction
・Industrial Waste collection and transport
Map